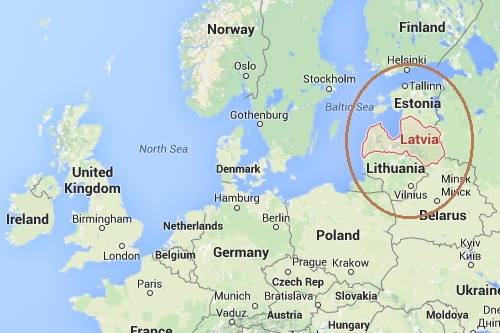 Latvia is located in the North Europe and is the part of the Baltic States - the three countries of Europe, with a long history and diverse culture between regions. Latvia, like other countries in the region was independent, then occupied by the Soviet Union, but it was among the first to break away in 1990—91 and today is a proud member of both the European Union and NATO.
It is convenient to access Latvia either by plane, buss, car or ferry. 
Travel to Latvia by plane:
Riga International Airport (RIX) is the largest airport in the Baltic states with direct flights to over 80 destinations in 30 countries. The cheapest tickets when taking direct fligth in Europe can cost as less as 30 EUR (one way). There are several companies offering flights to and from Riga:
www.airbaltic.com         www.ryanair.com         www.wizzair.com
Find other copanies and compare all flights: www.skyscanner.net 
Travel to Latvia by bus:
Lux Express Group is the largest international express routes coach operator in the Baltic region who offers bus services in ten countries. The main directions are St. Petersburg, Tallinn, Riga, Vilnius and Warsaw.  www.luxexpress.eu
ECOLINES is the largest and most experienced coach operator in the Baltic States, which offers comfortable travel to 21 countries and about 200 cities on a daily basis. www.ecolines.net
Travel to Latvia by ferry:
If you are arriving from Sweden, you might consider taking a ferry: www.tallinksilja.com
We can assist you with international tickets and travel arrangements to/from Latvia. Please get in touch with us!